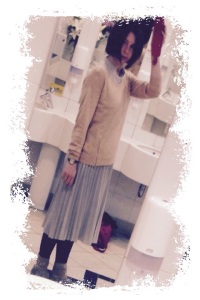 Originally from a village near Hull in East Yorkshire I grew up by the sea to a stay at home older Dad and a full time working Mum. Feminism was part of my upbringing even before I knew the word. As well as being a Northern feminist artist my background is in Sociology and British Sign Language (BSL). I studied both areas at the University of Durham where my dissertation considered ideas of language and labeling in the Deaf community.
I have Interpreted between BSL and English professionally for twelve years and the use of BSL and visual communication is currently featuring heavily in my art practice. The power dynamics of being an Interpreter have also been a source for my art practice and I am exploring these with various methods of audience/participant engagement.
In my practice I utilise a range of mediums and disciplines but much of my work leads to performance and live action. I also use film, photography and installation with a focus on aesthetics remaining from my earlier paint and illustration work . Research is a huge part of my practice and more recently I have begun to investigate how socially engaged practice forms my research, engaging with people as research can be far more illuminating than research solely being an abstract element of my practice. 
What has always been of interest to me has been language and this is what I explored in my MA, and more specifically the power language has within social relations.
I live in Aldershot Hampshire and work both locally and in London. I have a part time studio base at Platform 1 Gallery in Wandsworth.