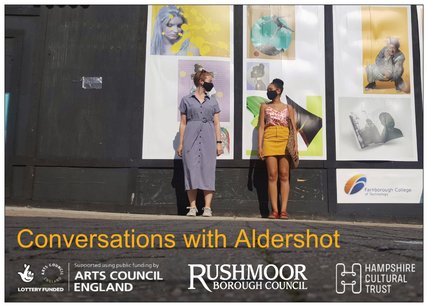 With a National Lottery project grant from Arts Council England I will be developing this project across 2020 and 2021.
I will be working with Artists Katherine Smith, Jill Kennedy McNeil, Annis Joslin, Amanda Holiday and Louise Jordan, community facilitator/collaborator Candice Camacho, and community organisations Safer Hampshire, West End Centre Aldershot, Rushmoor Voluntary Services and Chapel Arts Studios.
I will be developing communication strategies for sharing lesser heard stories, especially those of women, during lockdown. I will then work with a small group of women to creatively share some of these stories publicly. All of this work will become part of the wider archive of lockdown being collected by the local area.
The project will have a focus on exploring more mutually beneficially collaboration with communities and ideas of authorship, alongside considering how to work meaningfully with social engagement during a period of social distancing and isolation.
It is called 'Refocused' because the initial much larger project that I had planned could not take place due to the Covid 19 pandemic. This gave me time to consider more closely what would now be more relevant locally as well as for my practice. This project is a direct result of this reflection, the pandemic and my time as both an artist and resident in Aldershot.
Follow the project via instagram at @conversations_with_aldershot or Facebook at @conversationswithaldershot