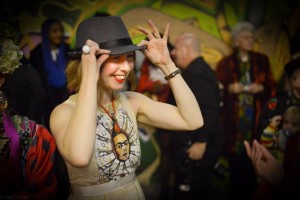 As an Artist I am currently expanding on my Sociological and Interpreting backgrounds to explore power relations in language and translation. Using various visual processing methods and communication methods (including British Sign Language, semaphore signals and more recently visual effects) as my material and socially engaged research as my starting point I continue to explore ways in which Art and language can be brought together to challenge assumptions and raise critical questions. My work often resides within a feminist framework and I have worked recently with filmed and live performance, video, photography and interactive installation.
Education
2017 – MA Fine Art (Distinction), UCA Farnham
2007 – NVQ 4 BSL/English Interpreting
2002 – BA Hons Sociology, Durham University
Residencies/projects
2018
Statements in Semaphore and Platform 1 Gallery Residency –  Received an ACE Artist Grant to fund ongoing project Statements in Semaphore 
Wharf Residency – Floating Island Gallery Resident Artist
2017
Hollaback London – One of 16 Artists invited as part of the 16 days of creative action across London
Twelve Month Artist Residency with FiLia – ACE Artist Grant funded project Statements in Semaphore
'What does it mean to be Artist in Residence of a Place?', LADA DIY 14 workshops, Lead Artist with Bridget Floyer.
2016
September 2016 'MOTHERHOUSE (Pilot)' – month long residency at IKLECTIK Art Lab , London.
April – Oct 2016  'Building a Better World', Creative Residency Project with UCA Archives, bookRooms and The Working Press Archives.
Spring 2016-Spring 2017 'In Our Minds' Collaborative project and touring exhibition with UCA and National Archives
Current and Upcoming Exhibitions
October 2018 Statements in Semaphore 'A Series of Events – Part 2', Princes Hall, Aldershot
October 2018 FiLiArt Exhibition '100 Women Artists', Manchester
Selected Exhibitions
2018
September 2018 Statements in Semaphore 'A Series of Events – Part 1', Platform 1 Gallery, Wandsworth Common, London
April 2018  'Echo.Control.'  UCA Farnham MA Alumni Show, Division of Labour Gallery, London
February 'Holloway', Curated by Bod Jaman, Islington
2017
October FiLiArt 2017 Exhibition, IOE, London
August MA Grad Show, UCA Farnham
July 'Listen' A two day collaborative residency, performance and exhibition with Angela Alexander-Lloyd at Kunsthal 45, Den Helder,  Netherlands
July 'The Waiting Room', MA Group Show, Platform 1 Gallery, Wandsworth Common Station, London
October 2016 – June 2017  'In Our Minds' Touring Group Exhibition, UCA Canterbury, UCA Farnham, National Archives in Kew, …Bristol
April  'Fake News' Group show Jubilee Library, Brighton
April 'Nasty Women Cambridge', Group Exhibition, Cambridge version of the International Exhibition 
March 'Nasty Women Newcastle', Group Exhibition, Byker Grove Community Centre, Newscastle version of the International Exhibition
March 'Iris Turns', BA and MA UCA Group Show, Bargehouse, London
February  'Statements' Group exhibition, Atellier Tammam Studio, Hastings Street, Bloomsbury, London
January  'Desperate Artwives 5th edition ' Group Exhibition, 114-118 Lower Marsh, London
2016
December 'FiLiArt' – Group Exhibition at Oxford House, Bethnall green, London
October 'Motherhouse' Group Exhibition, Iklectic, London
September – November 2016 'Building A Better World' Group Exhibition, UCA Farnham
June  – July   'Bound|Lines', Group  Exhibition, IKLECTIK Art Lab, Old Paradise yard, London
February – May  Solo exhibition, 'Communicate' Cellar Magneval, Fleet
2016
'Procreate project launch', Photozine exhibition, Women's Arts Library, Goldsmiths, London (part of the Women's Arts Library touring Archive that will visit Nottingham and New York in May 2016)
'Rethinking The Body', Elaine Thomas Library, UCA Farnham
'FILIA',  Feminism in London Conference, Hilton Hotel, London
NOA 2015 Moving Image Gallery with 'Yesterday' animation. 
'Off d' shelf Artist Books', Iklectik, London
'Music, Art and Passion', I'klectik, London
2014
Feminism in London Conference
Iklectic Gallery, London, Feminism in Art Exhibition
Cranleigh Arts Centre
Performance/Live work
2018
September  Statements in Semaphore, 'A Series of Events -Part 1' Platform 1 Gallery (twice daily performances and actions on the station Platform)
July 'Inside Out' DAW Takeover, Leyden Gallery, Spitalfields, London
May 'DAW Public Takeover', Group Action, Online and in Bank, London
April 'Echo Control', Live streamed 1.5 hour performance walk from ex Holloway prison site – to Division of Labour Gallery
2017
November Hollaback London, Live Action Waterloo Station, London
August 'DAW Public Takeover', Group Action, Online and outside Tate Modern
July 'Listen' A two day collaborative residency, performance and exhibition with Angela Alexander-Lloyd at Kunsthal 45, Den Helder,  Netherlands
June 'DAW Midsummer Madness' Takeover, Leyden Gallery, Spitalfields, London
March, Perfomed Semaphore Aerobics as part of the 'Desperate Artwives Takeover', Leyden Gallery, London 
March, Performed Semaphore Aerobics as part of the BA and MA show, Bargehouse, London 
2016
Performed in 'Seeing Voices' Cardiff, Wales
Performed in 'Seeing Voices' Woman's Hour Band, 'Listen' Exhibition, First Site Gallery, Colchester
2015
'She's in a Nightie and So Forth!', Performance, Unperforming 6, 43 Inverness St Gallery, Camden, London
'The Mother Meets', Live paint performance, Surrey
Music, Art and Passion: Live paint performance alongside The Glass Child at I'klectik, London
2014
'Skin' Street Art Cosmetic painting in Guildford
Illustration
2015
Editorial illustration for The Mother Magazine
2014
Colouring Book for The Mother Magazine
Welldone Publishing Nursery Range
Commissions from Starflower Press
Commissions from The Mother Magazine
Private commissions for three authors
Produced images for charity cards for AIMS association
Produced illustrations for a new book 'Cycle to the Moon' by Veronika Sophia Robinson. Published by Starflower Press,  2014
2013
Illustrated Children's book "Blue Jeans" by Veronika Sophia Robinson, published by Starflower Press Feb 2014
Illustrated Children's picture book "What A Lovely Sound!" By Starr Meneely, published by Starflower Press Dec 2013