Woman Up! Podcast Series 2019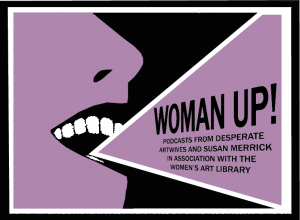 Podcast Series developed with Desperate Artwives and in association with the Women's Art Library, Special Collections, Goldsmiths University.
STATEMENTS IN SEMAPHORE 2018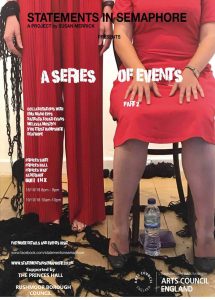 https://statementsinsemaphore.co.uk/
Residency and project at Platform 1 Gallery, London and in various locations in Aldershot.
Susan Merrick has been working in both Wandsworth and Aldershot with several Artists and organisations over the last 2 years running her project, Statements in Semaphore.
Statements in Semaphore began life as part of a residency with the National Archives where Susan created a filmed performance of literal semaphore signals from the roof of the National Archive building in Kew, hence the name! Susan made this work in response to the voices of the suffragette prisoners, and other women, that were 'hidden' in the archives. She wanted to make these visible, by performing them in semaphore from the roof!
The project has since grown and achieved funding from Arts Council England for both 2017 and 2018. Susan is interested in using her art practice to respond to historical and contemporary issues faced by women, and their lack of 'voice' or the 'hidden' voices in social debate. Susan wants to not only use archival and written resources as her research, but she wants to access contemporary dialogue with those women who are most often not heard. This is achieved by Susan setting up situations where conversations in safe spaces can happen, usually with a creative element, an art workshop or a clothing exchange for example. Working with organisations that support 'hidden' women, Statements in Semaphore is a project using socially engaged research to invoke conversations, debate and research around women's voices.
During 2018, at the West End Centre in Aldershot, Susan has been working with Artist Barbara Touati-Evans and You Trust Hampshire, an organisation supporting survivors of domestic violence in local refuges. At Platform 1 Gallery in Wandsworth Susan has been working with Artist Melissa Mostyn and Deaf Hope, an organisation supporting Deaf survivors of domestic violence to move forward in their lives.
Susan uses social engagement as her research to create live actions, film and performance, wanting to then feed this work back usefully to promote organisations and campaigns, and add to research and debate on social issues. Barbara uses wool and crochet to look at how our brains work and how we connect as communities. Together Barbara and Susan have been responding to the workshops and applying their practices playfully with participants and each other.
www.statementsinsemaphore.co.uk
STATEMENTS IN SEMAPHORE 2017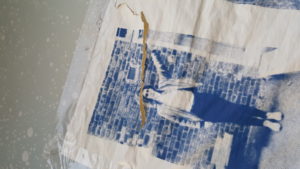 During 2017 Susan was FiLiA Artist in Residence and ran the first full year of Statements in Semaphore, funded by public funding from Arts Council England. Exploring socially engaged practice as research and working with Women in Prison and You Trust Hampshire. Artists involved were: Leah Thorn, Cate Field,  Amy Dignam and Rebecca Harris.

https://statementsinsemaphore.co.uk/
OUR NECK OF THE WOODS
LADA DIY 14
Along with Bridget Floyer I am one of the lead artists of LADA DIY 14. Together we will be running two workshops for live artists or those interested in live art in Autumn 2017 at Colchester Arts Centre.
IN OUR MINDS
I am one of the Artists involved in this collaborative project between UCA Farnham and the National Archives, funded by Friends of the National Archives. 2016-2017
BUILDING A BETTER WORLD
I was one of the Artists involved in this project reactivating the Working Press archives during 2016. The project resulted in an exhibition and a publication, RISE: WITH YOUR CLASS NOT FROM IT which is available from bookRooms. The project was a collaboration with UCA Farnham, bookRooms and Artist Stefan Szczelkun.