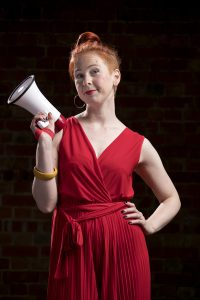 I am a multi-disciplinary Artist interested in conversations, language and communication, in questioning whose voices are heard, and in the access and spaces that can challenge or facilitate this.
With a background in BSL/English Interpreting and Sociology I make work, projects and collaborations exploring these themes, utilising a context-based mix of social engagement, live art, photographic performance, film making and space making.
Originally from a village near Hull in East Yorkshire I grew up in a small town by the sea to a stay at home older Dad and a full time working Mum. Feminism was part of my upbringing even before I knew the word. As well as being a Northern feminist artist my background is in Sociology and British Sign Language (BSL). I studied both areas at the University of Durham where my dissertation considered ideas of language and labeling in the Deaf community.
I have Interpreted between BSL and English professionally for almost 15 years including 5 years of Performance Interpreting and the use of BSL and visual communication features heavily in my art practice. The power dynamics of being an Interpreter have also been a source for my art practice and I am exploring these through my art performance work.
Research is a huge part of my practice and for the past four years I have been investigating how socially engaged practice can form the basis of research for practice, especially a 'local' practice. Engaging with people and organisations and audiences, the dialogues that come out of this are not only far more illuminating than research solely being an abstract element of practice, but it also informs further debate, research and potential social change.
Key to my work is: language, it's use, conversations, the spaces that allow these to happen, the voices that are hidden and how we access these; power and how language affects and is effected by this; and access, how we hear other voices, who hears our own, how Art reaches audiences and how do audiences reach us?
I have exhibited nationally and internationally, performed at Colchester Arts Centre, Toynbee Studios and Leydon Gallery and my residencies have included the National Archives, Platform 1 Gallery, Floating Island Gallery and Chapel Arts Studios. I have been awarded project grants from Arts Council England for 2017, 2018 and 2019 have recently become an associate Artist with Chapel Arts Studios in Andover and in 2019 have co-created Woman Up! A podcast series with Desperate Artwives and the Women's Art Library, Goldsmiths.