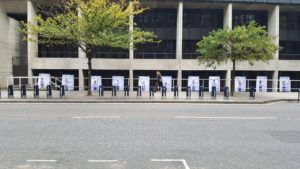 March for me has been about kickstarting Statements in Semaphore for 2018. Meeting with artists and partners including the wonderful Platform 1 Gallery and getting workshops organised. Lots of fun, travelling and emails!!
To read more about it visit the project website blog here.
I've also been preparing for the upcoming group show that I am involved in, Echo Control at Division of Labour Gallery in April. This show is exciting as it is with the group I graduated with and we have the opportunity to show some of our work again from the grad show, but with some developments relevant to our practice in the last six months!
I will be showing some of the work that came out of my work with the Holloway Prison site, work that ultimately came from the research and work of my Statements in Semaphore project.  However showing this work in a white space gallery immediately posed an interesting question for me. How does my work relate to this space?
Well, I have been able to answer it in two ways. Firstly, the gallery 'Division of Labour' is a gallery that focuses on work that is social/political and that normally challenges the commercial field of Art. (Well that fits!). However it is also important for me to think about how this work connects back to the original site (Holloway) and how my work and the audience can access one another. With this in mind I have decided to head to the Holloway site again on the opening day. I will check if the item I left at the site remains, and I will then walk the 4.3 miles from the site to the gallery,  bringing the item with me. I will be attempting to live stream the walk, connecting the sites through a digital mapping of the spaces inbetween.
The show is open from April 20th – April 29th (closed Mon,Tue) and the live stream will happen on my FB page on April 20th approx 5pm-6:30pm Division of Labour, 13-16 Herald St, London E2 6JT
https://www.facebook.com/statementsinsemaphore/
and more info about the show can be found on the next post!