Translation
: words that have been changed from one language into a different language : words that have been translated

: the act or process of translating something into a different language

: the act or process of changing something from one form to another
(http://www.merriam-webster.com/dictionary/translation)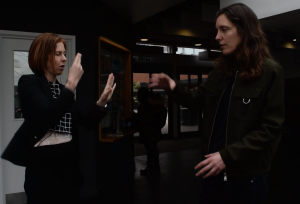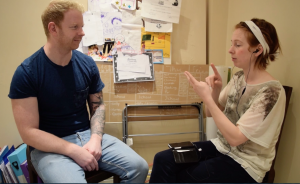 I have been considering the term translation this week through a series of film clips that I started to make. After discovering some interesting text in the UCA archives about a department closure I decided to use these for a new series of work. I first recorded myself speaking them, and then found willing people to 'translate' to, asking them to translate or respond to what I was doing. However I in this instance was interested in how someone else would respond to this, someone who didn't understand sign language but who could simply translate what they saw.
To several people this made no sense whatsoever and my brave brother willingly (ish) sat through the 6 minutes painfully without uttering a word or making a move, simply giggling occasionally and feeling very uncomfortable. My partner simply refused and a couple of my more verbose friends sat with arms locked and brows furrowed as they tried with all their might to understand 'something'!
Two other interesting examples so far have been where the respondent has thought about translation in a different way. One artist created a story from one of the shapes she saw me create and produced this story alongside my translation. The next interesting example was another artist  who decided to 'translate' in the physical way. changing my translation into another form. She began by mirroring me and this became like a dance, at times repetitive actions that as an interpreter could have looked like an echo. In this example though the artist became very self aware and began to worry it looked like a 'piss take' which stopped her for a minute.
What we do as artists everyday is translate in some way, so I want to look further at how people may want to respond to my translation and what types of reactions – verbal, physical, emotional that I get as I find more willing victims!