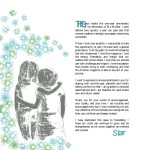 The above image was created for The Mother magazine for their previous issue and was inspired by 'friendship'. Friendship is hugely important to me, always has been. It's forms and shapes change and the faces that come with it often change or disappear for a while and return.
What is important about friendship for me varies with each friend too. We are all so different and our connections with each other are so varied and beautiful. To connect with people is just bloody brilliant to me. I love being with my friends. Sharing memories and making new ones. Buzzing from each other's energy and also gently caring for one another when the energy is depleted. Being with people who don't mind when you do something stupid or want to just drink gin. Who don't care when you snort snot during a sobbing attack or fall on your arse because you insist you can still limbo. These connections and re connections are what life is about to me. They are what make me happy with the fact that I am an arty, hippy, Northern, dance loving, gin loving, coffee loving, clothes and shoe loving, mother, wife and whatever else I become each day!
In my Art it's just as important to me to make connections. Making connections with my eclectic self, with an idea, and with anyone who may see my work. Connecting an idea in my mind or a feeling or some music with a physical or visual representation of that. This week I had my very first Art stall. It was a whole new experience to my online work, my one to one work and the exhibitions I have done. It was exciting to give some of my smaller pieces a chance for display and a great reminder to me that so many people love the smaller images too. That having a unique card can make a touching gift to someone. It's possibly time to expand my range of illustrations for cards so I will consider this during June!
This week my main project is finishing a sculpture for the 'off 'd' shelf WordPress exhibition at I'Klectik in London. A perfect exhibition and venue for an eclectic person and artist like myself. I submitted my sculpture idea (to an exhibition aimed at exhibiting Artist books!) because I just BELIEVED my idea to be right for this (I will share my idea fully once I have finished and have the piece up). Fortunately the organisers believed it too and I will have my sculpture alongside the beautiful books from 29th May! I hope some of you are able to pop over and see it!
Find out more info here! https://offdshelf.wordpress.com/2015/05/
As is usual for me, sculpture is completely new and so is giving me some fantastic challenges. I am learning about wire cutting and shaping, and to have good gloves! I am trying out various forms of paper mâché and how slow some of them are at drying (the hairdryer may come out tonight!).
I am allowing the physical representation of my idea to take shape and the materials I have chosen are influencing this too. It's so exciting to use my hands in new ways and I hope that this journey of Art and exploration continues to grow and grow for me.
much love
susan xx