So a week after finishing my makeup free month I went to a fabulous party. Some friends were celebrating their wedding anniversary by having a wedding themed party in the style of a wedding reception. Several of us wore our wedding dresses and it was a very fun night of dressed up silliness!
I received my homemade makeup order the day before so I decided to try it on the night. The makeup I received included a tub of loose translucent powder from potato starch, two solid eyeliners in tubs, one cocoa and one charcoal. Two powder blush tubs, one hibiscus and one beetroot. I also received a mascara, lip balm and lip scrub.
My skin is naturally quite dry so the translucent powder wouldn't sit on my skin without something under it. This product would be good for greasy skin/patches. I use oils on my skin most days so it will work well to give a matt finish to my nose.
For the party I realised I wanted a base so that the powder and blush would have a product to sit on. As I didn't have anything of this nature I used a small amount of my old foundation mixed with coconut oil. This worked well and allowed the powder and blush to sit nicely on my skin. They felt light and smelt lightly of their ingredients. The blush was quite light on my skin and this allowed me to build up a nice colour slowly.
I love emphasising eyes with makeup and I found the eyeliner and mascara didn't have the effect I was looking for. The mascara is nice for during the day, a subtle look, but the eyeliner I need to practice with. I need to try a few different ways of applying it from the tub as my eyeliner brush wasn't effective. I admit here that I dug out my old eyeliner and mascara in this instance too. What I did find though was that the natural eyeliner dabbed on with my finger made a lovely eyeshadow! So I placed this in the outer corners of my eyes and set it with the translucent powder.
Finally I wanted strong lips so I used the lip balm as a base and then applied a red lipstick that I already had.
Here is the end result 🙂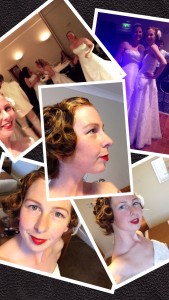 So I need to add to my gentle products! This look was definitely not chemical free but it was a big improvement to my previous makeup use.
I'm now on the hunt for an organic/natural foundation or concealor style product, a stronger look mascara that is still less chemically dependent than my usual product, and some lip tints- which I previously mentioned from Burts bees.
Putting makeup on felt very strange to me, I felt like I was cheating! However once it was on I really enjoyed playing with it and the character I get to play with it on. Today I am at work and still makeup free, and most days I find this better than putting a 'little' makeup on. Yesterday I wore the hibiscus blusher (sat on coconut oil) and the homemade mascara. It gave a subtle change which was nice but I don't feel I need it everyday now.
As for homemade makeup, I think there is real potential for changing to these, but as with anything it will be trying a few different products, getting used to using them and finding what works best for you. If you try any yourself, let me know!
A reminder of the link to the homemade makeup I bought
https://www.etsy.com/shop/ABHOMEMADENATURALS
And if you still haven't checked out my street art video 'Skin – painting using cosmetics' and shared it please can you!