My My My Delilah is a moving image piece focusing on clothing donated to my clothing exchange during 2018. Most of the pieces shown in this piece are from women who have experienced domestic abuse either first hand, or by witnessing it. The work incorporates a narration that reads like a letter, a love letter, a letter of anger, a letter of warning. It is only at certain moments that the listener may become aware that the script is made up entirely of song lyrics.
I wanted to consider the normalisation in our society of abuse within relationships, the normalisation of harrasment and control disguised as passion and love. Song lyrics I feel are a very constant and current way to explore this.
The piece was originally shown as a single channel film, with headphones, the watcher/listener is invited to sit on a chair in front of the screen surrounded by the same lyrics displayed in cut out letters – like a ransom note or stalker note.
Two Women is a collaboration between Susan Merrick and Barbara Touati-Evans created during Statements in Semaphore 2018 part 2. Susan and Barbara worked together across the year to provide workshops to a group of women living in a refuge (in their local town) for survivors of domestic violence. This performative sculpture was created in a response to the continued themes that the artists kept hearing, about control, limitations, restricted lives…. not during the abuse but afterwards, because of it. These women had to leave their lives behind, their friends, family, homes, clothing, and sometimes their children. They could not disclose their names, addresses and until only recently could not even register to vote. They were not allowed BBQs, often had curfews, and were themselves treated almost as prisoners. Unlike the perpetrators who were continuing lives in relative freedom. We wanted to consider this in our work, consider the restrictions using wool and large scale hand crochet (Barbara's usual working material), how the saftey that is put in place can also feel so limiting. But we also consider the security, the community that is created, the companionship and the level of support these women provided to one another. We eventually cut ourselves and each other out of the situation and end with a freedom, surrounded by the threads and tangles of the previous restricting wool.
This piece has been performed twice. Once to film in a shopping centre in Aldershot (before we were kicked out), and once at the Leyden gallery, London as part of the Desperate Artwives Takeover 2018.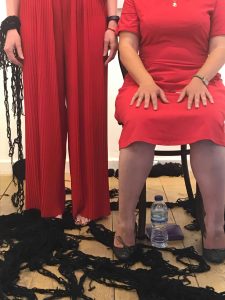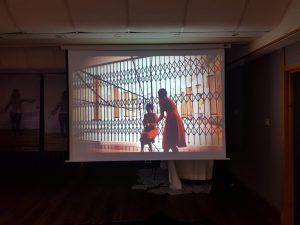 Words 2018 is a VR installation I created as part of the Platform 1 residency in my Statements in Semaphore project. Artist Melissa Mostyn and I worked with DeafHope and a group of Deaf survivors of domestic violence from the London Area to create a workshop at Platform 1 Gallery. Melissa encouraged the group to create effigys that would help them move on in their lives and asked for words from the women that resonated with them whilst making the effigys.
The film piece shows the space as it was left after the workshop, effigys hanging from string and around the walls. It then displays for short periods of time the various words that the women gave. The audience is invited to look out for the words, to turn around the space looking for them and reading them before they disappear from view again.
The VR piece was then shown as part of the exhibitions A SERIES OF EVENTS PART 1 and 2 at Platform 1 Gallery and The Princes Hall, Aldershot.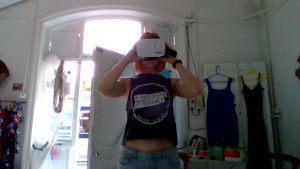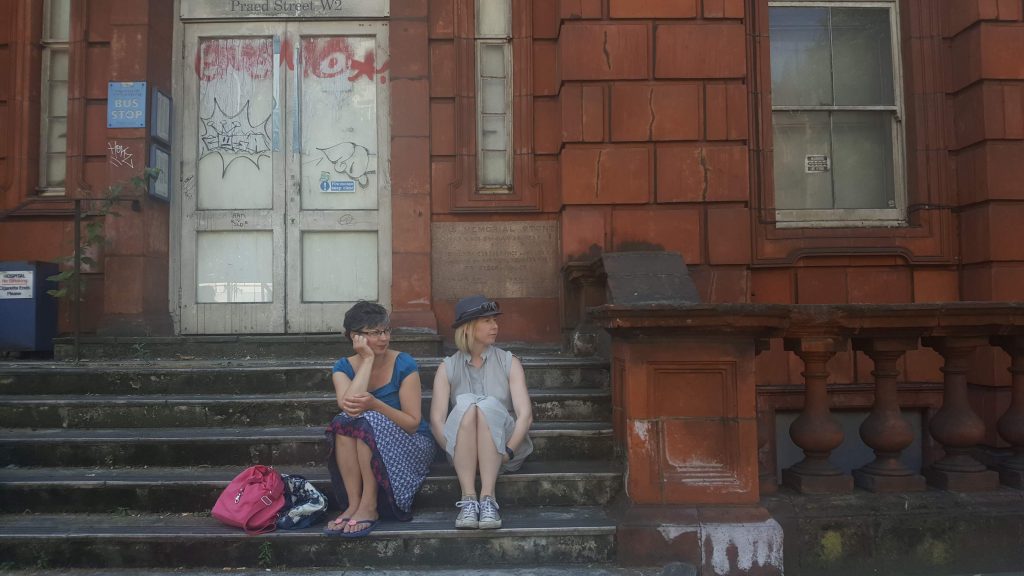 Artist Melissa Mostyn and I met up after the workshops to debrief about what had come up, and what we felt had worked, had been a challenge. We felt that this could be an opportunity to also think about the importance of anonymity when working with survivors as we have been doing. For this reason we decided to film the debrief but in a censored way. Melissa is Deaf herself, we had conducted the workshops in BSL (Bristish Sign Language) and all our meetings were conducted in BSL too. We decided to film the debrief in a way so that you could see that we were signing, but you could not see what was being signed. The piece was shown on a laptop during A SERIES OF EVENTS PART 1 2018.