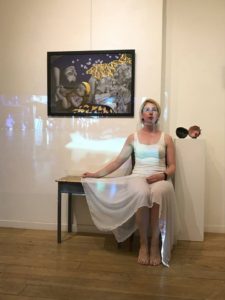 On Saturday night I performed my piece 'Are We Still Hysterical?' at the Leyden Gallery as part of the second Desperate Artwives takeover. I created the piece as a response to the theme of midsummer madness, but also using pieces of work that I have been gathering and contemplating.
Through my recent workshops I have been making space for dialogue. I then use this as both my research and toolkit for my practice. I had been considering how I could use some of the footage I had taken of the workshops (from floor level) and I felt that this evening of intervention would give me the opportunity to do this.
I am also continuing to develop my ideas around interventions with an audience, and creating activity with the audience. With this in mind I wanted to try out using a projector in an more active way. I have seen other artists projectors in a more interactive way and I wanted to bring this into live performance.
Below are some of the test shots I tried out in order to see what the aesthetic would be, this was especially a concern as I wanted to use the projections in well lit rooms and outside during daylight.