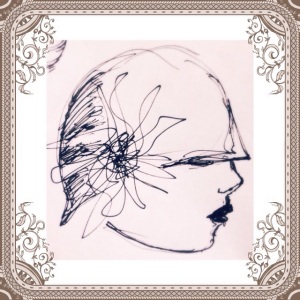 Dreams are a wonderful thing aren't they? They can inspire you and terrify you. Be something for your sleep time or something for your waking life. For some, they are merely shadows in the night or whispers of something else. For me they are my goals, my aspirations, my promises to myself, my fears, my challenges and my solutions. I create dreams for my life and in my life, I sometimes control my sleeping dreams, or I watch them and listen, wondering if they are showing me anything. Another Artist recently reminded me to watch my dreams and listen to myself. And they were right to do so. In the past few weeks I have found the solution or inspiration for several ideas within the period between sleeping and waking. And ideas and solutions are quite necessary in the weeks running up to an exhibition!
In October I was lucky enough to be asked to exhibit a couple of pieces in the Feminism in London in Art (FiLiA) exhibition, alongside some other amazing female Artists. It was this exhibition that introduced me to the beautiful venue and gallery, I'klectik. Eduard, the owner is a philosophic man creating a space for creative people of every ilk to come together and dream and inspire…. and create. I had to share this and the first person I thought of was The Glass Child (Charlotte Eriksson). Purely for selfish reasons, I wanted to hear her live and she rarely performs live gigs in the UK. So I sent some images of the venue to her and described it, selling it and crossing my fingers. Well, not only did she want to come to I'klectik, but she wanted me to join her, to come together and create something together. Bringing our own Arts together again.
Bloody yes I said!
So fast forward a few weeks and the wonderful Eduard asked if I wanted to use any of the space for exhibiting, which ended up being the whole space! So, keeping the theme of bringing music and my Art together I have spent the past few weeks listening with my soul to The Glass Child's music and letting new images flow. It has been a manic and glorious few weeks, culminating in a beautiful day in London on Monday when I was able to set up and give my images a home for the week.
On Friday I will take some canvas, paint and brushes, have a drink, a chat and paint something fresh for the evening, and from the evening, from Charlotte's voice and my heart.
So here's to dreams and grabbing them with both hands.
Susan xxx
A little piece of my dreams in the form of poster prints below – these arrived yesterday and they are so gorgeous, I'm so happy with them. There are a limited number and I will be selling these on Friday evening but if you fancy one yourself then send me a mail susan@susanmerrick.co.uk xxxxx