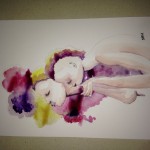 This is why I'm late blogging this week and also why I should probably start planning and scheduling my posts!
I spoke to a mentor this week qhich was really really great. She has given me some great action points to go forward with. Because if I want this life of Art then I really need to make it work, and to make it work I am going to keep taking it to the next level.
So look out over the next few months for the new packages of my services which I will be launching! I will be launching both standard  and premium packages.
Standard packages which cover how to license my existing work, or work with me to create new work and license that for your own use.
Premium packages which will provide more rounded artistic provision for your business, project or event needs.
For now I'm heading back to the sofa with my tissues.
much love
Susan xx