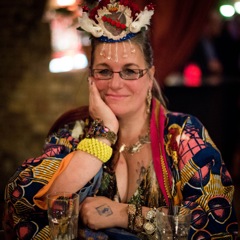 Thanks so much to Diane for writing this post for me this week. I absolutely LOVE her work and inspiration, make sure you check out all the images and links at the end of the post! Love Susan x
I'm very happy to have been asked by Susan to write a guest blog post for her, so here we go!
My name is Diane Goldie and I am an artist, working with textile and paint. Being able to say that is a big thing for me, as for many years ( 25 to be exact) I worked as a children's entertainer/puppeteer , not believing I was quite up to the gravitas that the title 'artist' held.
But then I met Sue Kreitzman, the amazingly inspirational artist and queen of outsider art and colour. She asked me to customise a big black raincoat for her with my paintbrush and from that moment on, the spell was broken: I believed!
Now I have the honour of being the person that makes or customises all of Sue's very iconic wardrobe based on hand painted and appliqued kimonos and floaty tops. Her subject matter for the kimonos are very specific, they are all about female energy, which for me is a joy as I identify as a radical feminist, really celebrating the power of woman. I am able to take Sue's very joyful and lyrical paintings and sculptures and put them on her kimonos to turn her into an actual walking gallery of her own . Sue doesn't get dressed in the morning , she curates herself! In the New Year , Sue will be one of Selfridges "Bright Old Things " and will be celebrated in one of the windows of the top retail store for two whole months! If you get a chance to walk down past Selfridges in the New Year, have a look. I can't tell you all how exciting this is for me, as Sue's going to have her very own mannequin wearing one of my favourite creations I made for her for my very first fashion show.
Oh yes, I have had a fashion show… it's crazy. It was a launch party event for an exhibition called Chromophilia held at St Pancras Hospital conference centre and it was an exhilarating and validating experience for me as well as the varied non professional models and friends who were wearing my upcycled creations and various kimonos on the catwalk. I have a personal mantra that drives me in my quest to make wearable art. It goes like this: 'Fashion tells you what to wear, style asks you how you'd like to express yourself. ' I'm all for style, as I believe fashion is just part of a big , nasty , consumerist machine that forces you to buy new each season lest you be deemed out of fashion. Style operates outside this dynamic, vintage can be mixed with new, whatever colour makes you feel good is the one you wear, whatever shape flatters you is the one you choose. No body shape or age is correct, style is as inclusive and positive as you can get.
I'm currently working on making kimonos that flatter all body sizes and ages, male and female, that are made of african wax print fabric mixed up with applique and hand painted elements to create bold , yet subtle statements. ( Yes I know that seems like a strange contradictory statement , but I hope the pictures convey what I mean). My imagery is mostly about  goddess and other forms of beauty , so I do feature a lot of Frida Kahlo imagery, along with tribal beauty and art, beauty in nature and sometimes elements of the darker side of life.
I've been asked to contribute to an artist run Xmas fair, so I've made lots of individual ,large hand painted, velvet butterfly brooches and a limited series of cushions , that will be available this weekend, Saturday and Sunday 29/ 30th November 12-6 pm at the Old Church, Stoke Newington Church Street, N169ES. If you're around and looking for unique gifts, do come and see me!
The best thing about doing what I do? It's the feedback from the people I make things for. They always report that the kimono or dress makes them feel different, confident, more themselves than they have ever felt, and that people react differently to them when they are wearing it. This is the power of style. We don't need to be sheep . Let's be roaring dragons!
Diane Goldie
Maker , artist and puppeteer.