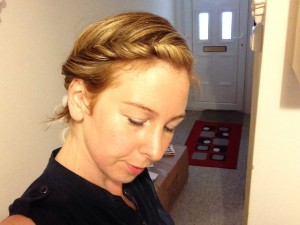 Hello!
I've been rather quiet on the blog front so I thought I'd give you a little update 🙂
Makeup/skin care
Since my makeup free month blog I have felt vey different about makeup. I've tried several natural and homemade products and am currently loving the Neals Yard range. Their mineral foundation is just beautiful and my skin loves it. This morning I was feeling a little jaded after a glass or two of vino with the hubby last night. A small circular dusting of this mineral and my skin was lifted. I've included a pic. In general I still go most days without makeup now, but when I choose to wear it I find I don't need concealer or powder. This foundation product is enough and it's really light compared to anything I've used before. If I fancy it I add some of the Neals yard mascara and Burts bees lip tint (on lips and cheeks). I wore all of these to see Aerosmith a couple of weeks ago and felt so happy to feel glamorous with far fewer chemicals on my face! I haven't found a good natural eyeshadow yet, but I've still got lots to try 😉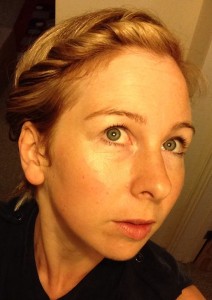 Art
The last couple of months have continued to be very exciting for me Art wise.
I've met some fantastic people who are giving me great feedback and advice. This is the part of life that I love and it motivates me to do so much more!
I was so excited to see my SKIN video and artwork written about in an article by the Makeup Museum. To have some recognition for my work is just lovely.
I've started my little shop on Etsy and had my wonderful Bristol based manufacturers approved to make my cards and prints.
Cycle to the Moon by Veronika Sophia Robinson is at the printers and is full of paintings and sketches by me that I loved producing. Creating images of femininity is what I truly love and is one of the reasons I also started my new illustration print range on Etsy.
I've started searching for an agent and I'm halfway through illustrating another exciting children's book for an acclaimed theatre writer/director. And finally (for now) I've just finished a large piece for a competition submission and I'm hoping to start with a new collaboration very soon.
Summer is here, warmth, light, love, music and friendships are feeding my soul and my art.
Here's to more summer adventures, more live music and plenty of champagne over the next month!