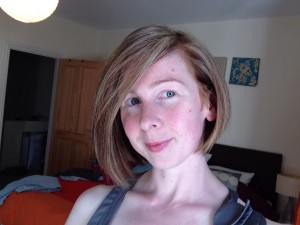 I love to smell good. So whenever I find hair products, oils, creams that smell good I want them.
With my current reduction in chemicals I'm still finding gorgeous smells. The shampoo and conditioner I use smells amazing and is very gentle.
I haven't looked at chemicals in perfume. I feel like pouting my lip and saying I don't want to! I love a good perfume and how it makes me feel. Elegant and fresh…. Yep, the adverts have truly had their way with me! I haven't used any this month and I've actually run out of my last one.
So id love to hear of any recommendations. For products to buy or make? I'm a big fan of essential oils already so if I can be advised of some good mixes that don't make me smell like a spice shop please? Fresh, light, maybe fruity? I love lemongrass, I use it in my skin scrub but how can us use it like a perfume? Add it to oil and have it in a spray dispenser?
Ive also previously mentioned the homemade makeup company that I spotted online. They are called A&B Homemade and here are a couple of examples of their products and ingredients to compare with the website I shared on Tuesday.
Their Lip Care Set Includes:
Honey Lip balm
Peppermint Lip Sugar Scrub
Ingredients: Coconut Oil, Beeswax, Raw Sugar, Essential Peppermint Oil, Raw Honey. That's it!!
They also do powder/bronzers/blushers which list ingredients such as cinnamon and beetroot!
For example, their Translucent Powder states ingredients as:
Potato Starch
Cornstarch
ARROWROOT
COCO POWDER
In terms of other makeup they do bronzers, powder, mascara and eyeliner, eyeshadow, lip balm and blushers. It's all made to order and at a reasonable price.
Here is a link to their etsy site-
https://www.etsy.com/uk/listing/184042083/all-natural-charcoal-eyeliner
Id like to be clear that I haven't yet tried these products so if you do try them or have done before I do, please give us a review! Once I've received my order I will let you know how I get on!
Another blog I found recommends homemade makeup too here
http://www.missmake.com/2011/04/homemade-makeup-bella-faith-cosemetics.html?m=1
And there are larger companies who supply makeup from natural and organic ingredients although sometimes their lists of ingredients still become baffling. Perhaps it's a regulations thing and they really are very simple products, but I'd prefer it if they could just state that! For those who are interested there is a lovely lengthy list of companies that are said to be natural/organic.
http://www.naturisimo.com/ourbrands.cfm
That's it from me today, I will be enjoying my long holiday weekend at home with family but will take a bit of time to round up my make up free month. Although this won't be the end! This month I've a night out with homemade makeup planned, the best way to try it out I think! And my old makeup needs to be put to best use by creating one or two more cosmetic only paintings for you!
Susan xx
If you haven't yet seen my Street Art video – Skin- please take a peek!

If you would like to donate to Macmillan Cancer Support please do so via my Just giving page or via text as described below. xxxxxx http://www.justgiving.com/Susan-Merrick
or text MMFM 50 £1 to 70070